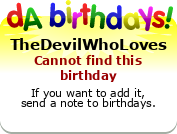 Isn't he just a cutie?

What Saiyan Are You?
Hosted By theOtaku.com: Anime



By

~

TheDevilWhoLoves




Awesome Stamps! <Some are mine!>

:thumb276850913::thumb260050789:


My Friends on here: -in no special order

-



















Inspirations:






✖Aggressive-Sweet-Bipolar-Random-Crazy-Fun✖


✖Names/Nick Names✖ Mattie, Dihan, Matt
✖Age: 15
✖ I am a wolf lover, Singer, Fangirl of Trunks, and drawer.

✖

's Loves-
✖Trunks from DBZ
✖DBZ
✖all dogs
✖Darkness/ Night time
✖My friends
✖Futurama
✖The Simsons
✖Adventure time
✖Black Butler
✖South Park
✖Family Guy
✖Darien Lake
✖Animal Hats

✖

/'s Hates✖

✖Stupid people
✖People who nag at others because they cant do something that they can.
✖Being alone
✖ BEES!!
✖ Whores who think they're hot and they're butt ass fugly.
✖People who steal, trace ect my art and others!
✖Lima beans.................
✖People who try to be like me but they suck very badly at it.
✖Tornadoes
✖Waking up early
✖My dog barking at everything she hears...
✖Skinny girls bitching that they're fat
✖The non rich and snotty stuck-up sluts...